The Choir CANTORES VARMINSES of the Warmia and Mazury Philharmonic
The choir was formed in October 2009 as a group of amateurs by students, teachers, lawyers, and public sector employees. From the beginning, the role of artistic director and conductor is being held by prof. Benedykt Błoński.
During the nearly ten years of activity the choir has performed dozens of vocal-instrumental and a cappella concerts, always receiving very complimentary reviews from critics at home and abroad. They performed abroad, among others: several times in Kaliningrad, Grodno (Belarus), Klaipeda and Vilnius (Lithuania), Barcelona and Primorsko. They also performed in Kiten (Bulgaria), where they won the I place on Balkan Folk Festival 2010 in category of mixed choirs and in Lloret de Mar – Barcelona in 2014 where they took part in the 4th International Choir Competition and won the Gold Medals in categories: musica sacra and pop music.
Every year they perform at charity concerts to help in raising money for holidays for children from the poorest families in Olsztyn.
On 17th of December the choir performed Krzysztof Penderecki's Polish Requiem, which was a great and unforgettable artistic event. The composer conducted it and the leading Polish soloists performed that night. The choir also performed Ludwig van Beethoven's Ninth Symphony and W. Kilar's Angelus conducted by Antoni Wit (06.06.2014)
The vocal-instrumental repertoire of the choir consists of, among others: C. Orff – Carmina Burana, W.A Mozart – Requiem in D-minor, Kronung-Messe KV 317, J. Rutter – Requiem (Olsztyn's premiere), J. Alain – Messe modal en septuor (Polish premiere performance), W. Kilar – Missa pro pace, Angelus, Victoria, Ludwig van Beethoven – Symphony No.9, MA Charpentier – Te Deum,
F. Schubert – Stabat Mater, Mass No.2 G major, operas: G. Puccini – Tosca, G. Verdi – La Traviata, E.Humperdinc – Hansel und Gretel, G.C. Menotti – Amahl and the night visitors; operettas: I. Kalman – Die Csardasfurstin, J. Strauss – Die Fledermaus.
The choir is constantly evolving. An attractive a cappella (pieces by Polish and foreign composers, from early to modern music, pop music standards, artistic elaborations of Polish and foreign folk songs, Polish and foreign carols) and vocal-instrumental repertoire at a high level of difficulty and professional performance determines the presence of the choir in the Polish music environment.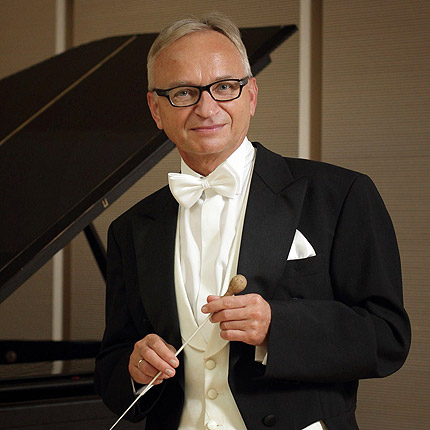 Conductor
prof. Benedykt Błoński
Benedykt Błoński was born in 1957. He is a graduate of the Fryderyk Chopin Academy of Music in Warsaw. He has worked with the Prof. W. Wawrzyczek Choir, currently, the choir of the University of Warmia and Mazury. With this choir, he has participated in Polish and international competitions and festivals, winning a series of the highest prizes (gold medals, as well as the Grand Prix).
The Choir CANTORES VARMINSES
of the Warmia and Mazury Philharmonic
Soprano:
Małgorzata Banasiak
Joanna Czesak
Anna Giżycka
Monika Grzonkowska
Zuzanna Klofczyńska
Magdalena Kowalewska
Aleksandra Lamparska
Małgorzata Oleksiak
Natalia Petruczynik
Daria Pilarska
Karolina Płotczyk
Agnieszka Sawka
Małgorzata Trzcińska
Maria Wdowik
Ewa Zuba
Alto:
Marta Adadyńska
Emilia Augustynowicz
Barbara Bekisz
Paulina Kacprzycka
Monika Klonowska
Halina Korol
Żaneta Kucharska – prezes
Joanna Kulpaka
Ewelina Majek
Dorota Makowczenko
Alicja Marzewska
Hanna Niemira
Danuta Podhorodecka
Ewa Uzar
Katarzyna Woźniak
Dorota Żarczyńska
Tenor:
Bartłomiej Bartoś
Leszek Biłas
Bartosz Cybula
Bartłomiej Nogajczyk
Maksymilian Perfikowski
Waldemar Trzciński
Baritone/bass:
Emil Ciapała
Bartek Drzewiecki
Michał Gedroyć
Mateusz Michałowski
Maciej Moszczyński
Jakub Piątkowski
Jakub Ptak
Adam Sierocki
Kacper Świtaj
Tadeusz Wenta
Krzysztof Zieliński